Hypochlorous acid water generator @Te-Arau 
Do you know acid electrolyzed water?
Hypochlorous acid, which is contained in electrolyzed water made from tap water and salt, has the effect of penetrating and destroying cell membranes of bacteria, and has a high disinfecting effect.
Hypochlorous acid contained in acidic electrolyzed water has high disinfecting power even at low concentrations, and its efficacy is said to be 20 to 80 times stronger than sodium hypochlorite.
According to the verification conducted by the hygiene laboratory, the result of suppressing the growth of common viruses, Escherichia coli, and Staphylococcus aureus in just 15 seconds have been reported.
It is used in many places related to living such as cleaning rooms, washing dishes and laundry, and it is safe water that is harmless to the human body.
Hypochlorous acid in electrolyzed acid water also has sterilizing, deodorizing and bleaching effects.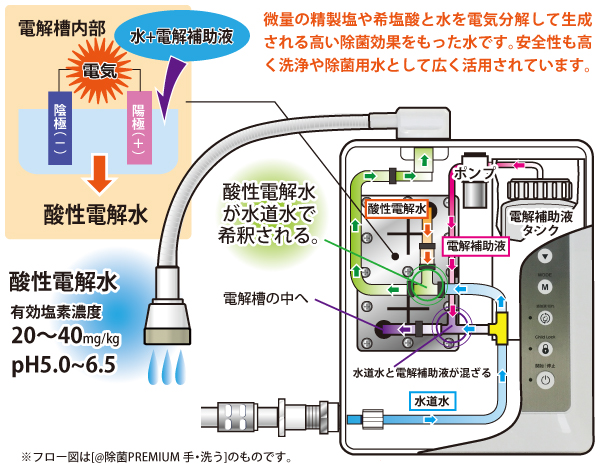 イ

酸性電解水(次亜塩素酸)と次亜塩素酸ナトリウム、アルコールとの比較 イ

Main features of hypochlorous acid water generator @Te-Arau
1.Equipped with a non-contact hand sensor where sterilizing water comes out
simply by putting your hands down under the sensor
2.It is possible to change the chlorine concentration level in 5 steps   
3.It is possible to set the discharge time of hand sensor from 10 to 120 seconds
in units of 1 second.
4.It is possible to set the sterilized water production amount from 1 to 200 litters in
units of 1 litter.
イ

酸性電解水(次亜塩素酸水)使用方法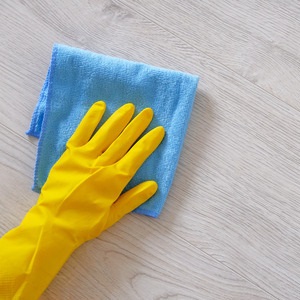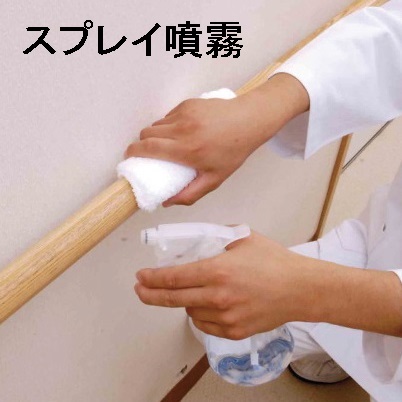 イ

Models of Te-Arau
イ

Specification of Te-Arau series
Model
@Te-Arau
Te-Arai Zanmai

model

SHW-100W

AT-02P

Size mm

W 265(291)xD134(165)xH330(366)
※( )内は突起物を含んだ最大寸法

W270 x D80 x H270 mm  



Weight

4.2Kg
2.8Kg

Electricity

AC100V、50/60Hz
Electric
consumption
60W
32W

電解水pH

pH 約5.0 ~ 6.5

有効塩素濃度

約20~40mg/kg ※現地水質により調整
約20~30mg/kg

生成量

約3.0リットル/分
最大2.5リットル/分

給水圧

0.1MPa~0.5MPa(推奨0.20MPa以上)

設置場所

屋内(室温:10℃~35℃、湿度:85%以下、結露・凍結無き事)

給水方式

元止め方式
イ

Places where Te-Arau is needed